It's Christmas Eve, and it is snowing hard. Annamouse has a lovely tree, but no decorations. She tries to walk to town to shop for ornaments, but the snow is too deep. On the far side of the hayfield, Willamouse has made beautiful paper chains. All she needs is a tree. But when she sets off to buy one, there is so much snow she can hardly open her door.
Is there a way for two field mice filled with holiday spirit to find each other and make their own cozy Christmas celebration?
Behind the Scenes
I wrote an early version of Two Christmas Mice in 1991 as a Christmas present for my goddaughter, Hadley. I typed out the text, and my six-year-old daughter and I worked on the illustrations together, using colored markers.

Here's our illustration for the page showing the two mice in their separate-but-nearby holes, just before they discover each other.
We made a book by punching holes along the side of the paper and sewing the pages together with red ribbon. Years later, I re-wrote the story, and my agent sent it to Holiday House. Now, fourteen Christmases later, I can give Hadley a present of the published book.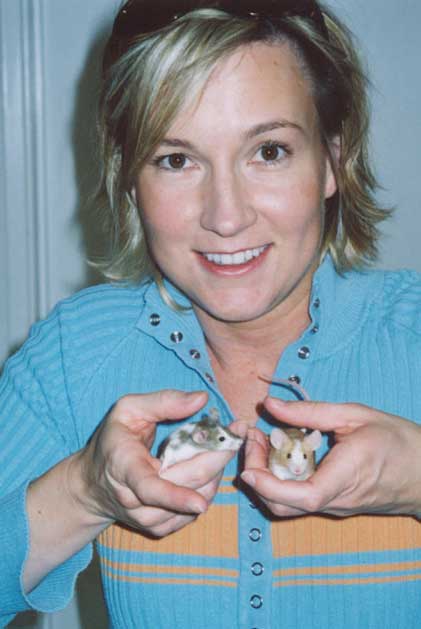 Stephanie Roth, the illustrator of Two Christmas Mice, bought two mice at a pet store and named them Annamouse and Willamouse, after the characters in the story. In this picture Stephanie is holding the real live Annamouse and Willamouse.
"Since I knew nothing about mice when I was offered the job,"
she writes, " I employed the two little real mouse girls to be my models. They taught me a lot about what it's like to be a mouse. The first thing I discovered is that mice are nocturnal, which meant I had to observe them after dark. I learned that mice eat a lot all the time . . . that old saying about "eating like a mouse"--don't you believe it! Mice eat A LOT. And that other saying about being "as quiet as a mouse", don't you believe that either! They make a racket! Mice also care a lot about each other and like companionship...they're social creatures.
"
Reviews
The homey appointments of this mouse-centric world and the text's clever coincidences will make readers smile.
-- Publishers Weekly
The richly descriptive language adds just the right amount of suspense as Willamouse searches for the mysterious music's source, and Roth's pencil-and-paint illustrations create delightfully expressive mouse characters and communicate the sense of warmth in detailed scenes of cushioned, snug interiors, complete with roaring fires and delectable treats. A charming tale about the season's comforts and the joy of finding a new friend.
-- Booklist
The story is told in a confident, chatty tone with some charming "as you know" asides for the reader, and the juxtaposition of the two mouse households is smoothly handled so it doesn't become confusing. Roth's paintings employ well-chosen details with a humorous touch: a mouse doll, tiny slippers by the door and a tray of sushi on the holiday dinner table. Since these new friends need a chance to use their new china tea set, Willamouse and Annamouse are, as you know, likely candidates to celebrate other holidays together in further installments.
This is a clever and satisfying tale of finding friendship when it is most needed, and the two mice are affable protagonists. Roth's bright domestic scenes capture the homey ambiance of the holidays, and the inclusion of occasional lighthearted details (Annamouse's knit tail-warmer , the sushi rolls and shish kebabs on Willamouse's dinner table) adds humor. Share this with little ones for a seasonal reminder that two are in fact better than one.
-- The Bulletin of the Center for Children's Books
Just in time for the holidays comes a delightful new book for young children, Two Christmas Mice. How the two mice find a way to get together and become friends on Christmas Eve because Anna plays her violin and Willa hears it, will be intriguing to children. And Mouzart is a favorite composer of both of them. I love it. Everyone should enjoy looking at the detail (Stephanie) Roth has in each little mouse house. This is an ideal book to read to 2 to 5 year olds at Christmastime, and if I know little ones, they will want it read many times."
-- Greenfield Recorder
Part-time Cape resident Corinne Demas, a professor of English at Mount Holyoke College, has written a number of delightful books for children, including ''The Disappearing Island,'' ''Hurricane!'' ''The Boy Who Was Generous with Salt'' and ''Saying Goodbye to Lulu.'' Her newest is a Christmas book that unites a timeless story with Stephanie Roth's colorful and expressive illustrations. The story revolves around holiday preparations in the homes of Annamouse and Willamouse, neighbors who have, nonetheless, never met. If you're curious about their best gift from Santa, this is the book for you.
-- Cape Cod Times
Preschoolers will love picking out cozy details of the mouse homes in Stephanie Roth's illustrations and will clamor often for this tale of friendship and fun.
-- Washington Parent
Annamouse and Willamouse are written with warmth and reality so readers will feel like they are in their little dens with them experiencing Christmas Eve. (Demas) creates a world that children will feel right at home in. With her lovingly descriptive language, Corinne Demas writes a clever, humorous tale of a coincidence that brings two mice together for what one can tell will be a long and happy friendship.
… a beautiful book for children of all ages. Adults can't help but smile at the reference to the favorite composer of the mice, "Mouzart" or the attention to detail of things like a tray of sushi on the dining table.
How to Get this Book
Ask for it at your local library.
Buy it at your local bookstore.
Order it online:



Illustrator
Stephanie Roth lives on the Central Coast of California, where no one ever gets snowed in. When she was younger she lived in Minnesota, where everyone gets snowed in from time to time. She writes: "Getting to stay home from school because of too much snow was the best! Sometime when you're stuck somewhere because of snow it makes you realize how fun it can be to be stuck. I think Willamouse and Annamouse think so too."
Stephanie was born in Frankfurt, Germany. Her mother, Marlies, taught her how to draw as soon as she "could hold a pencil." When she was in the
second grade, after she had moved to the States, she wrote an essay entitled, "What I want to beWhen I Grow up," – it was about wanting to illustrate children's' books.
Stephanie has illustrated over 38 books for kids in the last eleven years. Two Christmas Mice is her first major picture book.
You may visit her website to learn more.